Freight forwarders warn of empty supermarket shelves due to fuel costs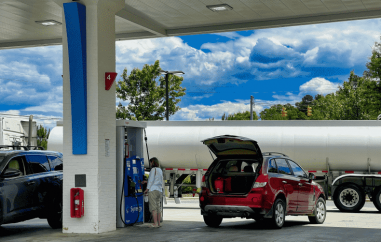 The extreme rise in fuel prices is taking a break. Both for diesel and for super gasoline of the E10 variety, the prices have fallen slightly, as the ADAC announced on Saturday. Diesel cost according to the nationwide daily average of Friday 2.312 euros per liter, which is 0.9 cents less than on Thursday. E10 became cheaper by 0.2 cents to 2.20 euros per liter.
However, the ADAC does not see any signs of a "serious easing" at present. In the preceding days, fuel prices had risen by double digits from one day to the next, reaching unprecedented heights.
The most important driver is the war in Ukraine and its impact on the commodity markets. Since the start of the war a good two weeks ago, fuel prices have risen sharply. Diesel has since increased in price by almost 65 cents per liter, and E10 by 45 cents.
The industry association of German freight forwarders has warned of the worst supply crisis in Germany since the end of World War II in light of gasoline prices. There is a threat of "partly empty supermarket shelves," said the chairman of the Federal Association of Freight Transport and Logistics (BGL), Dirk Engelhardt, the "Bild" on Saturday. The reason, he said, is that more and more freight forwarders can no longer shoulder the high fuel costs.
"The situation is much tighter than Corona," Engelhardt said. "We are facing the worst supply crisis in 70 years." Germany is "heading for a situation like in England after Brexit," he said.
The BGL boss called on Federal Economics Minister Robert Habeck (Greens) to tackle the problem and talk to the industry about easing the burden. "If Robert Habeck does not act now, Germany faces a major supply bottleneck," Engelhardt said. He said he last wrote a letter to Habeck at the beginning of the week, but has not yet received a response.


Photo by Gene Gallin
DeutscheDate is a new
German dating site
for professionals in Germany. No monthly fees, no minimum subscription period, no contracts, no tie-ins. Just a clean, simple, easy-to-use dating site for serious relationships.