BASF cuts 2,600 jobs but plans to distribute profits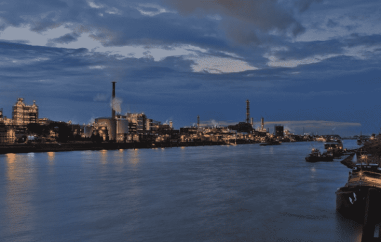 The chemical group BASF is cutting 2,600 jobs and closing roughly 10 percent of its production capacities at its main site in Ludwigshafen. The group is holding out the prospect of a stable dividend of 3.40 euros for shareholders for the crisis year 2022, notwithstanding the drop in profits, for a total of 3 billion euros. These are the key points of the forecast presented on Friday and the much-anticipated shape of the announced savings program for the European plants.
The number of jobs to be lost is thus lower than recently publicly speculated. BASF employs a good 110,000 people worldwide, with around 39,000 people working at the main Ludwigshafen site, including service providers. Chairman Martin Brudermüller said in a company statement that competitiveness in Europe is increasingly suffering from overregulation, especially "high costs for most production factors." All of this, he said, has already held back Europe's market growth compared to other regions for many years. "In addition, high energy prices are now weighing on profitability and competitiveness in Europe."
Brudermüller had warned loudly after the start of the Ukraine war against a then contemplated gas boycott and predicted considerable frictions for the entire economy in this case. Because of what BASF believes to be permanently high gas and electricity prices, the Group CEO had therefore announced a review of European production structures and held out the prospect of job cuts. The works council and the IGBCE trade union, which traditionally maintain a good relationship with companies in the chemical industry, had publicly criticized the announcement. BASF's works council plans to make a special statement on the plans today. In Ludwigshafen, however, layoffs are still contractually excluded.
In any case, Brudermüller said he is "very confident that we will be able to offer employment in other companies for most of the employees affected in Ludwighafen's production: "We have the utmost interest in retaining their broad experience for the company, especially in view of vacancies and the increasing number of retirements." He said the program will be implemented gradually through 2026. This is expected to reduce fixed costs in production by 200 million euros a year, and in total the Group aims to save 500 million euros a year. Other measures mentioned by Brudermüller include bundling corporate services in so-called "hubs," simplifying the management and structures of individual areas, and making research and development more efficient.
In Ludwigshafen, the Group is closing one of the two ammonia plants and the associated fertilizer production, among other things. However, it intends to continue producing Adblue, which is also made from ammonia. Also affected is the plant for the production of TDI, an important precursor for foams, adhesives and coatings, among other things, which was only built in 2015 at a cost of more than one billion euros. Unlike ammonia, the Group produces TDI in Europe only in Ludwigshafen. In the future, European customers would be supplied by plants in America, China and Korea. The Ludwigshafen plant, which has, however, repeatedly caused problems since startup, was said to be underutilized due to the weak market environment in Europe, the Middle East and Africa and therefore did not meet economic expectations.
The changes in Ludwigshafen would also lead to a significant reduction in electricity and gas demand, and CO2 emissions would fall by 4 percent compared with the group's global emissions. BASF is the largest industrial gas consumer in Germany. Brudermüller said the headquarters should become Europe's leading low-emission chemical site.
In the previous year, Group sales fell by 11 percent to 87.3 billion euros, and operating profit before special items declined at the same pace to 6.9 billion euros. Due to substantial write-downs - 6.3 billion euros on the gas subsidiary Wintershall alone - the bottom line was a loss of 627 million euros, compared with a profit of 5.5 billion euros the year before. The Group had already announced the key figures in advance. Wintershall had recently reported that its operations in Russia were defacto expropriated, and that the group no longer had the possibility to transfer money out of the country. BASF has therefore not earned the dividend of 3 billion euros in 2022 and must pay it from reserves. However, the payout is traditionally the most important investment argument for buying the share. A default or significant reduction would presumably have permanently shaken confidence in the Group. Brudermüller himself announced when he took office that he would normally increase the dividend year by year.
In the current year, the uncertainties surrounding the war, high energy prices and rising interest rates will continue, according to the Board of Executive Directors. BASF expects sales to be between 84 billion and 87 billion euros, i.e. only slightly lower in the best case. Operating profit is forecast to fall more sharply to between 4.8 billion and 5.4 billion euros.
DeutscheDate is a new
German dating site
for professionals in Germany. No monthly fees, no minimum subscription period, no contracts, no tie-ins. Just a clean, simple, easy-to-use dating site for serious relationships.