Scotland submits plans for independence referendum to court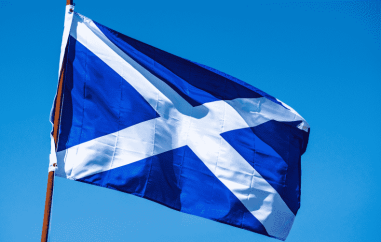 The Scottish government is having its plans for a new independence referendum reviewed for legality by the UK Supreme Court. The regional government's chief justice, Dorothy Bain, submitted a corresponding application to the Supreme Court in London.
Bain also submitted the corresponding bill on Tuesday. What needs to be clarified is whether the Scottish regional parliament may call a referendum.
"The Scottish government, the Scottish parliament, and the people of Scotland and the United Kingdom should have clarity on the scope of the relevant reservations on this issue of fundamental constitutional importance," Bain wrote. That clarity, he said, can only be provided by the Supreme Court.
Scottish leader Nicola Sturgeon had announced the vote for October 19, 2023. However, according to constitutional experts, the British central government in London must approve the plan.
Prime Minister Boris Johnson has repeatedly made it clear that he rejects the plan. In an initial referendum in 2014, a majority of Scots (55 percent) had voted to remain in the United Kingdom. However, that was before Brexit, which the northernmost part of the UK rejected by a clear majority (62 percent).
Independence supporters therefore hope that the situation will change in a new vote.
Chief Justice Bain stressed that a referendum would not be legally binding, but would merely express the will of the people. Should the Supreme Court find a vote unlawful, Chief Justice Sturgeon intends to make the next British general election a de facto referendum and campaign solely on the basis of the independence question.


Photo by Chris Robert
DeutscheDate is a new
German dating site
for professionals in Germany. No monthly fees, no minimum subscription period, no contracts, no tie-ins. Just a clean, simple, easy-to-use dating site for serious relationships.