Corona vaccinations ongoing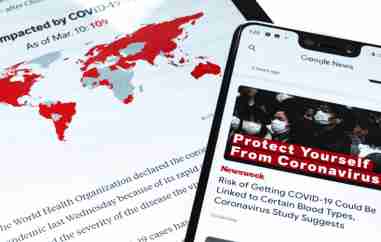 In total, as of the 3rd Jan, 238,000 people in Germany have been vaccinated against the coronavirus, as reported by the Robert Koch Institute (RKI). Compared to the previous day, the number of vaccinated persons increased by 40,665, according to the RKI data. However, the RKI emphasises that this figure may also include previousreports and does not reflect the number of people actually vaccinated on a given day.
Among those vaccinated are 103,894 residents of nursing homes. Additionally, 107,019 persons received the vaccination for professional reasons. This includes medical staff with a very high risk of infection as well as staff caring for the elderly. A total of 56,197 people were vaccinated because of their advanced age, i.e. they are part of the priority group agedover 80 years.
The RKI has so far recorded the most vaccinations for Bavaria (57,833), followed by North Rhine-Westphalia (48,691) and Hesse (30,085). The fewest vaccinations in absolute numbers have been reported so far in Thuringia (810), Bremen (1837) and Brandenburg (3219).
The values available to the authorities of the individual federal states may be significantly higher than those reported by the RKI, as the reports on vaccination occurrences are sometimes transmitted to the Institute with some delay.
According to a report in the Welt am Sonntag, the phone line for the medical on-call service is already struggling with problems - even though a future big rush is still expected. At the start of the year, the Federal Ministry of Health expects up to 500,000 calls a week at peak times, according to research by the newspaper. To cope with this flood, millions are currently being spent on setting up call centres.
The phone number 116117, which has been used so far for the medical on-call service, is supposed to give appointments for a Corona vaccinationin some federal states, such as Baden-Württemberg and Schleswig-Holstein. However, the hotline is sometimes overloaded, difficult to reach or has problems with longer waiting times of more than ten minutes, according to the report. A spokesperson for the Federal Ministry of Health is quoted as saying that "we are currently intensively investigating the very serious indications that the hotline is overloaded". Elsewhere, for example in Berlin, 116117 is explicitly not to be called for such vaccination appointments. There, special Corona numbers are set up or vulnerable population groups are invited by letter.
Image by Obi Onyeador
DeutscheDate is a new
German dating site
for professionals in Germany. No monthly fees, no minimum subscription period, no contracts, no tie-ins. Just a clean, simple, easy-to-use dating site for serious relationships.