US troops to withdraw from Afghanistan as early as the end of August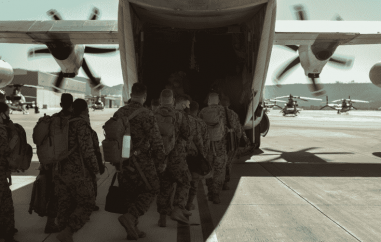 The U.S. military mission in Afghanistan will end Aug. 31, according to President Joe Biden. "The withdrawal is proceeding in a safe and orderly manner," Biden said Thursday in an address from the White House. "I will not send another generation of Americans to war in Afghanistan."
Biden acknowledged that the militant Islamist Taliban are now stronger than at any time since the fall of their regime in late 2001, but said a Taliban takeover was still "not inevitable." The U.S. president pointed out that the Afghan security forces were well equipped.
Originally, Biden had announced September 11 as the deadline for the end of the mission. That will be the 20th anniversary of the terrorist attacks by the al-Qaeda terror network in the U.S., in the wake of which the deployment began.
Despite the ominous situation, Biden would not concede failure of the U.S. mission. He said the mission had two goals: to bring al Qaeda chief Osama bin Laden "to the gates of hell" and to deprive the terror network of the ability to attack the United States from Afghanistan. "We have achieved both of those objectives."
Biden stressed that against this backdrop, the withdrawal was "frankly overdue." He indignantly denied the question of whether the U.S. would be responsible for civilian casualties in the event of a Taliban takeover or civil war. He rejected parallels to the U.S. defeat in the Vietnam War. Biden called on political leaders in Afghanistan to be united and also to reach an agreement with the Taliban.
U.S. troops had left their main base at Bagram late last week. The Defense Department had said Tuesday that the withdrawal was more than 90 percent complete. The departure of the U.S. soldiers also means the end of the NATO mission in Afghanistan. The Bundeswehr flew out the last German soldiers last week. British Prime Minister Boris Johnson said Thursday that the majority of British units had also already left.
Even after the end of the U.S. military mission, U.S. troops will remain in Afghanistan to protect the U.S. Embassy and possibly the airport in the capital, Kabul, according to the U.S. Defense Department. The "Washington Post" reported that this could involve 650 to 1000 soldiers.
Biden had already promised during the election campaign to end "perpetual wars" by the U.S. such as the one in Afghanistan - his predecessors in the White House had failed in this endeavor. More than 1,800 U.S. soldiers have been killed in attacks or combat since the start of the Afghanistan mission in October 2001. More than 20,000 have been injured.


Photo by Joel Rivera-Camacho