U.S. wireless companies suspend 5G launch at airports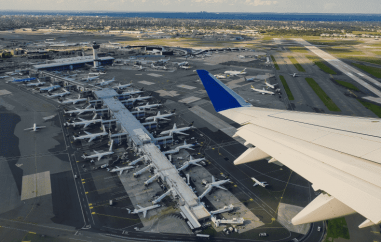 In the midst of the pandemic, U.S. airlines were threatened with another crisis, but it appears to have been averted for now. In a letter to Transportation Secretary Pete Buttigieg, they had warned of "catastrophic disruptions" for air traffic if telecommunications companies such as Verizon and AT&T were to release their 5G services this Wednesday. The two U.S. wireless carriers now plan to hold off on launching new 5G services for now, at least near major airports in the United States.
Airlines fear that they will have to ground a large number of their aircraft due to safety concerns because 5G could potentially cause interference with key on-board systems. The economic consequences, not only for air traffic, would then be immense. Airlines are demanding that 5G not be used within three kilometers of runways.
U.S. President Joe Biden welcomed the compromise Wednesday night, saying it would prevent potentially devastating disruptions to air traffic. Still, airlines canceled flights or changed aircraft models on short notice out of concern that control equipment could malfunction during landings. For example, the widely used long-haul Boeing 777 is affected by the warnings issued by the U.S. Federal Aviation Administration (FAA). As a result, Lufthansa and Austrian Airlines also rescheduled their flights.
The U.S. Federal Aviation Administration (FAA) and Boeing have recently made their concerns clear: 5G could interfere with the frequencies that aircraft also use for altitude measurement devices. Many important aircraft systems depend on these, such as collision warnings and automatic thrust. In the case of particularly highly automated aircraft such as the Boeing 787, the aircraft might no longer recognize that it is on the ground when landing, which in turn would have consequences for the release of brakes and thrust reversal. The FAA has so far only cleared two models of the so-called "radio altimeters," which are installed in about 45 percent of the U.S. fleet - for the majority of aircraft, there was still a great deal of uncertainty the day before 5G services went live.
AT&T and Verizon bought the C-band spectrum in question at auction last year for $80 billion and have a strong economic interest in using it now. At the beginning of January, following an intervention by the White House, they had once again postponed the launch of 5G services by two weeks and set up a buffer zone around 50 important U.S. airports, which is to be maintained for six months.
Why the problem has been able to escalate for so long and is still unresolved after the originally planned launch date is likely to be the subject of heated debate soon. Representatives of the U.S. telecommunications industry point out that 5G has already gone live in Asia and Europe without any noticeable consequences for air traffic. They also cite statements from the European Union Aviation Safety Agency (EASA). Unlike in the U.S., Europe generally uses 5G spectrum that is further away from the frequency bands used for radio altimeters. EASA had confirmed that it was not aware of any cases of system failure or interference on board aircraft in Europe. However, it would continue to monitor the situation closely.
But the FAA goes one step further: It is not enough to have no information about faults. Conversely, it must be proven that the devices in question still function safely when 5G services are operated nearby. In addition, there are technical differences to the 5G networks in Europe, they are used with lower strength, the antennas are directed more downwards. The skepticism also reflects the FAA's much stricter basic stance since the disaster surrounding the two Boeing 737 Max crashes. The FAA had been accused of being too lax in its supervision of Boeing, which had led to fatal flaws in the development of the flight software.
In the public eye, most of those involved are completely on the sidelines. The FAA at least informs the airlines when it releases another new altimeter, Boeing and Airbus try to keep their customers informed. Jet Blue CEO Robin Hayes recently complained in a memo to his employees about a "lack of transparency" with regard to the data situation. Neither Boeing nor Airbus are publicly commenting on what part of their fleets might be affected.
Democratic Congressman Peter DeFazio, who chairs the Transportation and Infrastructure Committee, called for the FAA and industry to take more time to assess the risks and "prevent potentially disastrous disruptions to our national aviation system."
Meanwhile, more than 90 percent of the new cell towers, which will enable much faster data transmission, are going into service in the U.S. as planned. It remains to be seen when the rest will follow. It is the third time AT&T and Verizon have had to postpone the rollout.


Photo by Miguel Angel Sanz
DeutscheDate is a new
German dating site
for professionals in Germany. No monthly fees, no minimum subscription period, no contracts, no tie-ins. Just a clean, simple, easy-to-use dating site for serious relationships.