Russian President Putin declares war on Ukraine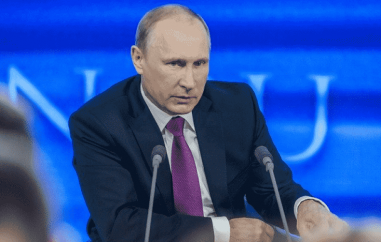 Vladimir Putin has declared war on Kiev. "We seek the demilitarization and denazification of Ukraine," the Russian president said in a half-hour speech broadcast by state television Wednesday night. He had decided to "conduct a special military operation," the Kremlin leader said - citing the new friendship treaty between Russia and the separatist republics in the Donbass, which he recognized as sovereign on Monday, as a basis for doing so. Putin did not specify which areas his forces would now invade.
In general, he did not mention Ukraine until the very end. In the first twenty minutes, Putin explained who he considered the real enemy: the United States, which he described as an "empire of lies". NATO, which for him is an "instrument of American foreign policy" and nothing more. The "irresponsible politicians in the West" who have extended their military alliance to the East.
His speech was a general reckoning with the West and especially with Washington. At the end, he made a blatant threat that goes far beyond Kiev.
Putin accused the U.S. of breaking international rules in a kind of "modern absolutism" when it benefits American interests, citing military operations in Syria, Libya and Iraq as examples. As for Russia, Putin portrays it as if Washington has exploited its openness to the West: "Until recently, attempts have not stopped," Putin says, "to use us for their own interests, to destroy our traditional values and impose their pseudo-values on us, which would corrode us, our people, from within."
It is the worldview of a man who sees himself surrounded by enemies both externally and internally - internally, Putin has long since rendered harmless all critics whom he considers agents of the West.
Now he is turning his attention outward: "Those who publicly and with impunity claim world domination declare us, Russia - and I emphasize: without any reason - to be their enemy," Putin complains. He speaks of the great economic, technological and military capabilities of the United States, which it is using against Russia. "As for the military sphere," the Kremlin leader then warns, Russia is "one of the most powerful nuclear powers in the world and, moreover, has certain advantages in a number of the newest types of weapons."
Then comes the first open threat: no one should doubt "that a direct attack on our country will lead to a crushing and terrible consequences for any potential aggressor."
Putin again complained about NATO's eastward expansion. He said that "an 'anti-Russia' hostile to us is being created" in front of Russia's borders - in areas Putin calls "our historic territories." Again, he accuses NATO of having "pumped up" these areas with "state-of-the-art weapons. For the U.S., the Kremlin leader says, it's about containing Russia. "For us, our country, it's ultimately a matter of life and death. And that's not an exaggeration." This, he said, is the "red line" he has spoken of so often. "They have crossed it."
He then turned to the Donbass, claiming again that genocide must be prevented there. He claimed that NATO had supported far-right, Nazi forces in Ukraine. Even before that, he had called the government in Kiev a "puppet regime." Russia could not feel safe as long as "a constant threat" emanated from Ukraine's territory.
He finally presents his attack on Ukraine as self-defense - and even asks the Ukrainians for understanding. "I must also appeal to the military officers of the Armed Forces of Ukraine," Putin continues. "Respected comrades! Your fathers, grandfathers, great-grandfathers did not fight for this against the Nazis and defended our common fatherland so that today's neo-Nazis seize power in Ukraine."
Responsibility for possible bloodshed, Putin said, as he did Monday, lies solely with the "regime" in Kiev. He ended with a threat, but then extended it far beyond Ukraine: Anyone who tries to disrupt or threaten Russia "should know that Russia's reaction will be immediate" and will lead to consequences "the likes of which you have never seen in your history. We are ready for any development of events. All decisions necessary in this regard have been made. I hope to be heard."
DeutscheDate is a new
German dating site
for professionals in Germany. No monthly fees, no minimum subscription period, no contracts, no tie-ins. Just a clean, simple, easy-to-use dating site for serious relationships.