Fewer new cases of type 2 diabetes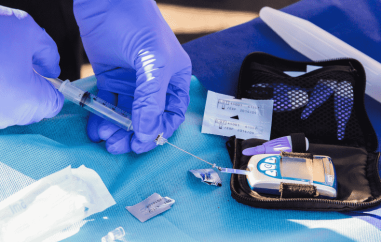 The number of new cases of diabetes in Germany has fallen in recent years - but those affected are getting younger and younger. This is shown by an analysis published on Monday in Düsseldorf by the German Diabetes Center (DDZ) based on data from around 63 million people with statutory health insurance.
According to the study, a total of around 450,000 new cases of type 2 diabetes were recorded each year between 2014 and 2019. At the same time, the incidence rate fell by 2.4 percent annually in women and by 1.7 percent annually in men, especially in the older age groups. Incidence describes the number of new cases during a specific period.
In eastern Germany and Saarland, it tends to be higher than the national average. The regional analysis even showed an upward trend in 14 counties - in the counties of Main-Kinzig, Dessau-Roßlau and Gotha, the number of new cases rose by more than one percent per year
"It is encouraging that the incidence across Germany appears to be falling by about two percent per year - even though the number of new cases is still immense," explained Thaddäus Tönnies of the DDZ and lead author of the study.
However, he said it is concerning that new cases are increasing in the 20- to 39-year-old age group - by 2.9 percent annually in men and 2.4 percent annually in women. "Type 2 diabetes is definitely no longer a disease of old age," the expert explained.
Meanwhile, the proportion of diabetics overall - in other words, prevalence - continues to rise. According to the experts, the ever-improving medical care for people with type 2 diabetes is leading to a higher life expectancy and thus also to a larger proportion of sufferers in the overall population.
The researchers therefore see no reason to sound the all-clear, despite the first slight decline in new cases. The trend could quickly reverse again, and a certain number of unreported cases is also conceivable.


Photo by Matt C
DeutscheDate is a new
German dating site
for professionals in Germany. No monthly fees, no minimum subscription period, no contracts, no tie-ins. Just a clean, simple, easy-to-use dating site for serious relationships.