Berlin universities examine measures to save energy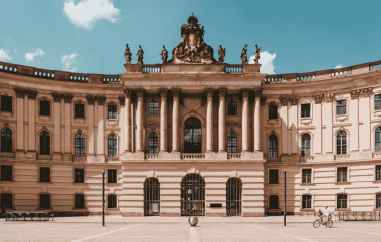 Some students at Berlin's universities may have to adjust to colder seminar rooms in the coming winter semester. In view of the impending gas shortage, the three major universities in the capital are currently examining what measures can be taken to save energy - and some are already implementing them.
Humboldt University (HU), for example, is currently examining lower room temperatures for the winter semester, as well as limited use in its buildings or turning off hot water from the tap, according to a spokesperson.
During the lecture-free period, the ventilation systems in unused rooms of the HU have already been switched off, it said. How much the university can concretely save in energy costs through these measures initially remained open.
The Technical University (TU) has also turned off the hot water and turned down the room temperature, according to a spokeswoman. In addition, the TU says it is working on consolidating computer servers so that fewer rooms have to be air-conditioned. Energy is also to be saved on outdoor lighting.
Further measures are planned for August, and the university public is also to be involved with their ideas.
Freie Universität (FU) has not yet decided on any concrete measures. The university has set up a working group for this purpose, which is planning the procedure and coordinating with the presidium, a spokeswoman said.
For several years, the FU has been saving energy with the help of its own combined heat and power plant and a photovoltaic system, it said. As a result, the FU was able to save around six million euros on its energy costs of 12.8 million euros last year.
The three universities are currently assuming a winter semester in attendance. As much presence as possible is to be combined with as much energy savings as possible, said a spokesperson for the HU. A complete transition to online classes is not yet under consideration at any of the institutions. "We hope we can avoid that," said the FU spokesperson.


Photo by Claudio Schwarz
DeutscheDate is a new
German dating site
for professionals in Germany. No monthly fees, no minimum subscription period, no contracts, no tie-ins. Just a clean, simple, easy-to-use dating site for serious relationships.