Number of Lyme disease cases in Berlin increased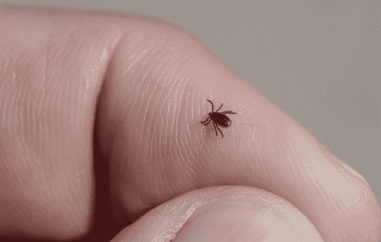 In Berlin, the number of reported cases of Lyme disease has increased in recent years. In 2021, 994 cases of the disease triggered by tick bites were reported to the Robert Koch Institute. In 2020, there were 959 cases, and in 2019, the number was 851 cases. "There were significantly more forest visitors in the pandemic years, so that was certainly an important factor in the increase," Berlin-based biologist and tick expert Olaf Kahl told German Press Agency.
Tick activity has not been particularly high since 2020, he said. "People have been exposed to more tick bites due to increased visits to the countryside," said the managing director of tick-radar GmbH, which conducts research projects on ticks nationwide. Fewer than 800 cases had been reported to the RKI in both 2017 and 2018.
According to Kahl, the months from March to July are the months with the strongest tick activity on average over many years. With their bite, ticks can transmit bacteria and viruses that trigger diseases such as Lyme disease and meningitis (TBE).
Those who stay on wide paths do not have to fear tick bites in forests and parks. As soon as one leaves the ways, however, it becomes dangerous. The animals hide in the leaf litter.
Kahl also advises that it is best to visit a toilet again before visiting the forest, because stepping out in the forest may be a special risk situation as far as tick bites are concerned. "So after each visit to the countryside, you should thoroughly check your body and clothing for ticks," the expert said.


Photo by Erik Karits
DeutscheDate is a new
German dating site
for professionals in Germany. No monthly fees, no minimum subscription period, no contracts, no tie-ins. Just a clean, simple, easy-to-use dating site for serious relationships.