Less criticism of deportation measures at BER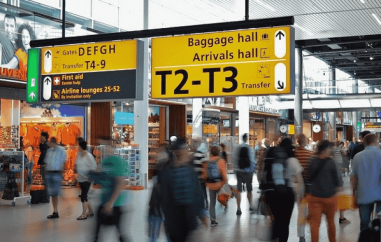 When people are deported to their home countries at BER Airport, they are usually there: Two deportation observers from the welfare organizations who take a look at the often tense situation and, if necessary, act as mediators. Last week, the Berlin-Brandenburg Deportation Monitoring Forum presented its report for 2020 and 2021.
According to the Forum, there were around 30 percent fewer deportations from BER Airport in 2020 and 2021 overall than in 2019 - mainly due to the Corona pandemic. A total of 2670 people were deported from BER in both years, as well as previously from the old Schönefeld and Tegel airports. The deportation observers, who have been working full-time since 2021, accompanied 44 of the 56 collective deportations and 102 individual measures on scheduled flights during this period.
The result is initially positive for the federal police, who carry out the deportations at BER: "In the majority of all observed deportations, no special incidents occurred."
However, the observers also noted some problems. For example, interpreters were not present during all deportations, they said. On flights to the successor states of the former Soviet Union, interpreters were sometimes present for Russian, but not for the language of the destination countries, such as Moldovan or Kazakh.
The "lead state authorities", i.e. the authorities responsible for deportation in the states of Berlin and Brandenburg, are supposed to be responsible for the deployment of the interpreters. It often remains unclear what happens to people whose deportation fails at the last minute, for example because of a court order, and who then find themselves at the airport penniless but with a lot of luggage.
Andrea Johlige, a member of the Left Party who is usually critical of deportations, also said in response to a question from this newspaper, "The activity report shows that the efforts to professionalize deportations and make them as little stressful as possible for those affected have led to positive changes."
However, he said, the well-known problems of family separations, lack of language communication, restraints and use of physical restraint still have not been fully eliminated.
"Above all, additional psychological stress on children and families must be avoided at all costs, and family separations must not be allowed to occur," Johlige said. The fact that a young person is left behind alone in Germany, as happened in the case of a 16-year-old Armenian, must be prevented in the future.


Image by Rudy and Peter Skitterians
DeutscheDate is a new
German dating site
for professionals in Germany. No monthly fees, no minimum subscription period, no contracts, no tie-ins. Just a clean, simple, easy-to-use dating site for serious relationships.