Lauterbach presents seven-point plan against Corona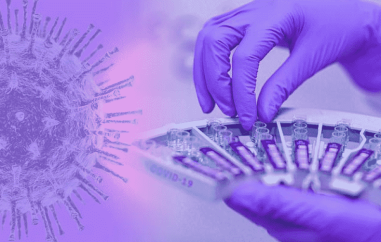 Health Minister Karl Lauterbach, in the face of again higher Corona infection figures, relies on caution of all in the summer - and then on further protective measures for the fall. "It is not that we can carelessly and without countermeasures meet this summer wave," said the SPD politician on Friday in Berlin. However, "no alarm is necessary" either, he added.
He appealed to people to voluntarily wear masks indoors. Then, he said, he expects an autumn "where we will not return to normal. But we also won't be as constrained as we were constrained."
The summer wave: The Robert Koch Institute (RKI) expects case numbers to continue to rise in the near future, according to Vice President Lars Schaade. Every wave has started among young and middle-aged people, he said. "That is also the case this time." It then propagated, and more people from risk groups with Covid would again come to clinics and intensive care units.
Reasons for the trend, he said, include the end of many protective coatings and that the BA.5 variant is spreading even faster than previous ones. "The good news is that there is currently no evidence that BA.5 leads to more severe disease than the other omicron variants," Schaade explained.
Still, Lauterbach warned against risking infection now. "Careless infection in the summer is not a promise," he said, also with a view to longer-lasting impairments (Long Covid). That's where vaccination is always the better approach, he said.
The RKI now gave the seven-day incidence as 427.8 - after 480.0 reported new infections per 100,000 population in seven days the previous day and 318.7 a week ago.
However, the value is not very meaningful because of the Corpus Christi holiday in several countries - authorities reported case numbers on Thursday only very limited or not at all to the RKI. In addition, experts have been assuming for some time that there are many unrecorded cases - mainly because by far not all infected persons have PCR tests done. But only the PCR test results count in the statistics.
Fall preparations: With an eye on a more tense situation again, Lauterbach wants to implement a seven-point plan. "The goal is very clear that we want to go into the fall better than we were able to last year and the year before that." That includes another major vaccination campaign, but without a new attempt at mandatory vaccination, which failed in the Bundestag.
Other points include faster use of medications for those with the disease and more precise responsibilities for Corona protection in nursing homes. Lauterbach said he expects that citizen tests could continue to be used in the summer. So far, the free offer is fixed until the end of June.
Six of the seven points could be addressed directly, the minister made clear. The last one is trickier. There it concerns changes of the Corona regulations in the infection protection law, which expire on 23 September. And in the coalition, the FDP rejects quick determinations.
Lauterbach announced that he and Justice Minister Marco Buschmann (FDP) are aiming for key points before the summer break - they could then be decided after the summer. He did not give details yet. Winter tires" should be prepared. And more is needed than the "summer tires" that have now been fitted.
Lauterbach recommends second "booster
Vaccine for all: Still for the summer Lauterbach advised again to handle fourth inoculations "more generously" - thus a second "Booster" after the basic protection with usually two injections. Four out of five of the over-60-year-olds would still have no fourth vaccination - although this protects for a few months against an infection and almost always against severe courses. "The specific decision must be made by the individual in consultation with his or her physician."
Among other things, the Standing Commission on Vaccination (Stiko) generally recommends this only after the age of 70. Chairman Thomas Mertens told the "Rheinische Post" (Friday) that a new statement on the matter would "only make sense after the summer."
In the fall, three vaccines should be able to be offered - and in sufficient quantities in each case. In addition to one for the classic virus, two adapted to new variants are expected. "We have procured so much vaccine that we can offer everyone any vaccine," Lauterbach said. When it comes to who gets which vaccine, he said, it's the individual doctor-patient discussion that counts.
For the future, Lauterbach believes it is likely that there will be vaccines "that can prevent the actual infection." That would be "light at the end of the tunnel." Some scientists expected this, while others thought it was currently out of reach. It could be vaccines that act immediately through the mucosa.


Image by Fernando Zhiminaicela
DeutscheDate is a new
German dating site
for professionals in Germany. No monthly fees, no minimum subscription period, no contracts, no tie-ins. Just a clean, simple, easy-to-use dating site for serious relationships.