Venice bans large cruise ships from parts of the lagoon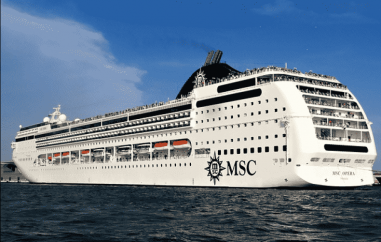 Large cruise ships are to stop sailing through parts of the lagoon in Venice from August 1. The government under Prime Minister Mario Draghi decided on Tuesday evening on a transit ban for the cruise giants. Specifically, the ships will no longer sail through the Canale della Giudecca, the Bacino di San Marco (St. Mark's Basin) and the Canale di San Marco in the historic center. It is an important step in protecting the lagoon, a statement said.
According to the decree, the measure affects cruise ships with more than 25,000 gross tons or a length of more than 180 meters or a height of more than 35 meters. It also applies to pots that exceed certain emissions standards.On the other hand, ships that are considered sustainable or do not fall under the criteria for the ban may continue to pass through the lagoon. These could be, for example, cruise ships with a size of around 200 passengers.
As a temporary solution, the cruise ships are to switch to the port in Marghera, which is located on the mainland and not in the historic center of Venice. At present, mostly freighters dock in the industrial port. Infrastructure Minister Enrico Giovannini wants to spend 157 million euros on moorings there, among other things. However, the port is likely to remain only a temporary solution, because at the same time, the Port of Venice is looking for a permanent berth for the future.A commission of experts will receive proposals for this in the next two years and examine them for feasibility. The winning project is to be determined by June 30, 2023. Giovannini's ministry plans to invest 2.2 million euros in the project. The association of cruise shipping companies welcomed the measure and hopes it will give Venice more planning security.
Government fears for Venice's World Heritage status
For years, activists, locals and the tourism industry have been at odds over the cruisers in the lagoon, whose imposing size regularly passes through the Canale della Giudecca and at the same time the famous St. Mark's Square, a popular spot for tourists. According to critics, the giant ships destroy the environment in the lagoon, damage the foundations of the city and pollute the air. Cruise tourism also brings little economic benefit to the city, they say, because passengers do not sleep there and often spend little money.
With the ban now imposed, Rome is likely to respond to the latest demands of the UN cultural agency Unesco. Its experts had proposed a few weeks ago to put Venice on a negative list for endangered world cultural heritage, among other things because of the cruise liners. They demanded, for example, that the ships be diverted to more suitable ports in the surrounding area. A decision on that could come from mid-July. Venice and its lagoon have had Unesco World Heritage status since 1987.


Image by Guenther Simmermacher