Trains return to normal service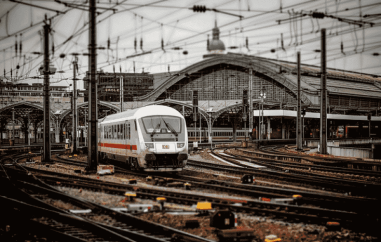 After the end of the third round of strikes by the train drivers' union GDL, Deutsche Bahn has expressed satisfaction with the start of normal operations. Regional and long-distance trains will run as scheduled again in the course of Tuesday, a Deutsche Bahn spokeswoman said on Tuesday morning. In individual cases, there could still be irregularities.
Deutsche Bahn returned to its regular schedule early Tuesday morning. The GDL strike has ended for the time being. Both sides want to draw a conclusion in the course of the day. One thing is already clear: The third and so far longest round of strikes in the current wage dispute has led to widespread restrictions in freight and passenger traffic.
However, the union has already shown that it can go even longer: 127 hours in passenger traffic and 138 hours in freight traffic lasted the longest industrial action round of the GDL in a collective dispute so far. That was in May 2015, and it was not until two months later that a collective agreement was reached in conciliation. The strike that has now ended lasted 110 hours for passenger services and 118 hours for freight services. This makes it the second-longest strike in the history of Deutsche Bahn.
There is no rapprochement in sight. "After the strike is before the strike," said GDL leader Claus Weselsky on Monday. He added that it was up to the management of Deutsche Bahn to decide whether there would be further industrial action.
In addition to traditional collective bargaining issues, the dispute centers on the law on collective bargaining unity and the GDL's sphere of influence within the group. The law came into force in 2015. It stipulates that in a company with several unions, only the collective agreement of the employee representation with the most members is applied. In most of Deutsche Bahn's 300 or so operations, that is the railroad and transport union, which competes with the GDL.
Weselsky therefore feels compelled to extend his sphere of influence to other trades and become the majority union. In addition to train crews, he also wants to negotiate for workshop workers and employees in infrastructure and administration - areas that have traditionally been represented by the EVG.
Shortly before the end of the strike, Weselsky reiterated his demand for an offer that would enable the union to conclude a collective agreement for all members in the various rail operations.
In addition to these issues, the wage dispute is also about money. The GDL is demanding a 3.2 percent wage increase for a period of 28 months and a Corona bonus of 600 euros. Deutsche Bahn recently offered a term of 36 months and agreed to the Corona bonus. There is also a dispute about the pension scheme.