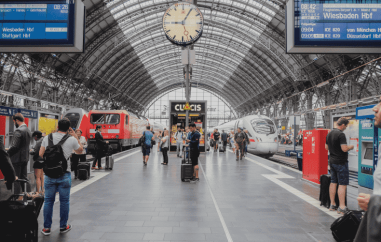 The 24-hour traffic warning strike by the Verdi and EVG unions began at midnight. This means that trains, buses and planes will be at a standstill throughout Germany this Monday - including in Munich.
In the Bavarian capital, commuters needed good nerves in the morning: Even before 7 a.m., traffic was already jammed in several places on the Mittlerer Ring. "Tomtom" reported 155 traffic jams on a length of almost 180 kilometers in Munich at shortly before 8 o'clock. At shortly after 8 o'clock, there were already almost 250 kilometers of traffic jams!
On the railways, long-distance traffic will be completely shut down and most regional traffic. Munich Airport is also on strike, as are many other German cities. In fact, nothing has been working at the airport since Sunday.
While the subways have not been running so far, some buses are on the road from larger transportation hubs in the city, such as the Munich Freiheit or the Harras. But even here there is not much going on, as an AZ reporter reported in the morning.
According to the Munich Transport Company (MVG), about every second bus is currently running. Meanwhile, Deutsche Bahn has set up a shuttle service on the S-Bahn between Munich-Pasing and Leuchtenbergring. Service is expected to resume around 4 p.m.
Most Munich residents probably looked for an alternative for the strike day. In the MVGgo app, for example, you can still get numerous bikes and scooters - in the ghastly rainy weather for many, however, probably not the first choice.
Munich's main train station was initially empty in the morning. "Due to strike measures, train services are suspended until further notice," a loudspeaker announcement echoed through the station halls. In the meantime, some strikers have gathered there. The Central Bus Station (ZOB) at Hackerbrücke is busier. Here, travelers are waiting for their buses.
There was and is also little activity in the old town: There are hardly any people on the move in Sendlinger Straße and at Marienplatz.
With the warning strikes, the union Verdi and the railroad and transport union (EVG) want to increase the pressure in their current collective bargaining rounds.
Under tense conditions, Verdi and the civil servants' association dbb will again meet with the municipalities and the federal government in Potsdam on Monday. At EVG, further negotiations with the various rail companies are scheduled for the middle of the week. Negotiations with Deutsche Bahn will not continue until after Easter.


Photo by Topcools Tee
DeutscheDate is a new
German dating site
for professionals in Germany. No monthly fees, no minimum subscription period, no contracts, no tie-ins. Just a clean, simple, easy-to-use dating site for serious relationships.