Habeck wants to secure gas supply by all means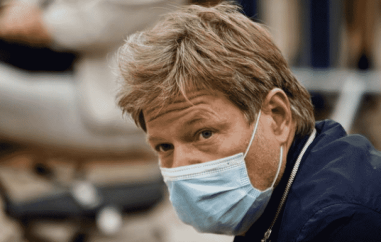 According to Economics Minister Robert Habeck (Greens), the German government will do everything in its power to secure gas supplies in Germany. Addressing a possible collapse of the market, Habeck said on Wednesday evening in the ZDF program "Markus Lanz" that will not happen.
"This is now that moment of "Whatever it takes," it won't happen," he said, echoing remarks made by former European Central Bank chief Mario Draghi. The Italian had once promised to save the euro with this "whatever it takes."
With regard to a threatened total loss of Russian gas supplies, Habeck stressed, "We are not just passive. We don't have to stand by in amazement at what's happening." After all, he said, it has also been possible to maintain security of supply in Germany despite gas deliveries being cut by 60 percent.
However, citizens would have to prepare for an expensive winter. The price increases in the fall and winter of 2022/23 would be "in the four-digit range per household. And that can be then evenly times a monthly income for a family." Saving therefore remains the order of the day, according to the Green politician.
In order to save gas in view of the throttling of Russian supplies, less gas is also to be used for electricity production - instead, more coal-fired power plants are to be used again. The Bundestag is expected to vote on corresponding amendments to the law late Thursday evening.
Bavaria demanded that the federal government conduct a stress test for domestic gas supplies. "It is feared that in the event of a gas shortage, the gas pressure may not be sufficient to adequately supply the gas-fired power plants needed in Bavaria to ensure security of supply," reads a letter from Minister President Markus Söder (CSU) to German Economy Minister Robert Habeck (Greens), obtained by German Press Agency in Munich on Thursday.
In addition, there are fears that in this case, the pipeline capacities would also be insufficient to supply Bavaria with the necessary electricity from coal-fired power plants in the west and east, it said. "It is irritating in this context that this stress test, which was promised for May 2022, has still not been submitted despite the worsening situation."
In the letter sent Tuesday, Söder refers to calculations by the German Federal Network Agency, according to which a gas shortage will occur even if Russian gas supplies via the Nord Stream 1 pipeline remain at the current curbed level of 40 percent.
In addition to the stress test, Söder again called for all gas storage facilities relevant to Bavaria to be filled. For the storage facility in Haidach, Austria, the necessary agreement with Austria must therefore be concluded "as quickly as possible".


Image by Bjorn Eichenauer
DeutscheDate is a new
German dating site
for professionals in Germany. No monthly fees, no minimum subscription period, no contracts, no tie-ins. Just a clean, simple, easy-to-use dating site for serious relationships.