China reopens terminal at global third-largest cargo port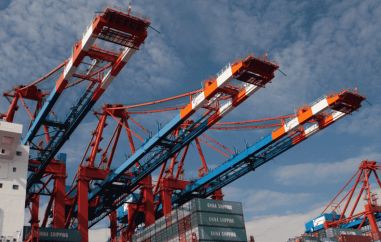 In China, authorities have reopened the terminal at the port of Ningbo-Zhoushan, which was closed due to a corona case. Work could gradually restart at the Meishan terminal, Chinese state television reported Wednesday, citing local authorities. It would be fully available again from Sept. 1.The Ningbo-Zhoushan port some 250 kilometers south of Shanghai is the world's third-largest cargo port; it handled nearly 1.2 billion tons of goods in 2020.
The Meishan terminal had been closed after a worker tested positive for the coronavirus on Aug. 11. According to Chinese media reports, nearly 2,000 port workers were placed under surveillance and were not allowed to leave the port.
In May, the Chinese port of Yantian in the commercial metropolis of Shenzhen had already been closed for a month after a worker tested positive for the virus. The backlog at the port caused enormous restrictions on shipping traffic.
On Wednesday, the Federal Statistical Office also published the latest export figures. According to the figures, German exporters' business with China shrank in July for the first time in almost a year. Exports to the world's second-largest economy fell by 3.9 percent year-on-year to 8.4 billion euros, the agency said in Wiesbaden. This was the first decline since August 2020 and at the same time, the largest minus since May 2020, when the People's Republic was still suffering from the first Corona wave and German exports there had slumped by a good twelve percent. China is the second largest buyer of goods "Made in Germany" after the USA.
Exports to the United States grew by 15.3 percent in July to 10.8 billion euros. The world's largest economy is currently enjoying a strong upswing, not least thanks to government stimulus packages. Business with the United Kingdom also grew at the beginning of the second half of the year, with exports there increasing by 5.6 percent to 5.8 billion euros.
Overall, exports to countries outside the European Union grew by 5.8 percent year-on-year in July to 52.8 billion euros. Compared with the previous month of June, however, there was an anticipated decline of 2.7 percent after adjustment for calendar and seasonal effects. Nevertheless, exports to these so-called third countries - which account for just under half of German exports - were 7.8 percent higher on an adjusted basis than in February 2020, the month before the restrictions caused by the Corona pandemic began in Germany.
These are the results of the new monthly leading indicator for foreign trade. This means that the Federal Statistical Office intends to present initial results for exports to non-EU countries as early as 20 to 25 days after the end of the month, more than two weeks earlier than previously.


Photo by Kurt Cotoaga