What follows from iOS 16 for the iPhone 14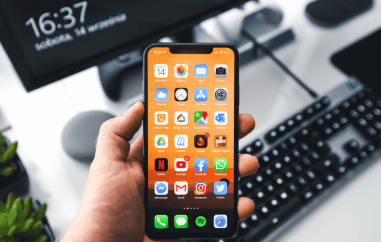 When Apple introduces the iPhone 14 in the fall, the also new operating system iOS 16 will also reach older devices. As long as the old smartphones are sufficiently fast and have enough memory, they will benefit from the latest, young software. iOS 16 will even run on the five-year-old iPhone 8. Such sustainability is unusual in the smartphone industry. Other manufacturers only offer updates for three years. However, some functions of iOS 16 are so performance-intensive that they absolutely require a younger iPhone. The old models simply do not have the computing power.
Even though there is not even a hint of confirmed information about the iPhone 14, one can, however, infer some details of the upcoming hardware from the innovations of iOS 16. Right at the beginning of the conference and very prominently, Apple highlighted an improvement: the lock screen of iOS 16 will be updated, more info from individual apps can be captured at a glance even when the screen is locked. There's a new menu to customize the lock screen, which includes colors and fonts. Mini-applications called widgets can be placed directly on the lock screen.
Switching between different lock screens is nimble. A rigid display becomes a dynamic element. With the new live activities, you can track real-time events on the lock screen. For example, how long the Uber cab will take to arrive or the score of a soccer match in progress. So you no longer have to unlock the iPhone and start the desired app, but get the information at a glance on the device.
This is a big gain, but with a small restriction: If you have an Apple Watch, you can already set up your watch face so that it displays the desired information at any time. Or in other words: Apple transfers the watch face idea to the iPhone. To make it perfect, only one important detail is missing, which will most likely come with the iPhone 14: The always-on display, which has also been implemented in the Apple Watch for quite some time and can be found on many Android smartphones. With such an always-on display, you can permanently see certain information without having to pick up the device. An always-on display can now be used in a battery-saving way when the refresh rate is reduced.
Many other improvements in iOS 16 should allow a more productive use of the smartphone. The dictation function of iOS is fundamentally revised to switch faster between finger and gesture control as well as dictation. In addition, punctuation marks will be inserted automatically. This function works exclusively on the device, i.e. without data transfer of the audio snippets to external servers. Because it requires a particularly large amount of computing power, it only works on newer iPhones.
Apple's Messages app and iMessage now allow you to retrieve and edit messages that have already been sent. A maximum time window of 15 minutes after sending is available for this. If the recipient uses an older iOS, he still sees the deleted or edited message in the original version. This "lifeline" does not work with SMS either.
One of the most important improvements concerns the already available Live Text feature. So far, it allows extracting text from photos. With iOS 16, it will be expanded and can even have texts extracted from videos in the future. A very spectacular feature is an automatic cropping function for objects in videos and photos. It works with artificial intelligence, Apple says, and is called "Visual Lookup" in the German translation.
Apple Wallet for payments or digital IDs is to replace even more physical keys, and you can share keys like a photo in the future. Apple Pay is undergoing an enhancement called "Pay Later with Apple Pay." In the United States, users can spread the cost of an Apple Pay purchase over six weeks in four installments.
Apple's Maps will handle stopover planning in route guidance and offer better support for public transit. Third-party providers can draw on Maps to integrate their info.
Family sharing lets you share subscription services from Apple with the entire household. Now parental control of the child's activities and assigning age-appropriate content should become easier. Photos can also be shared within the family in a few easy steps. There is also a new iCloud library for shared content that can be populated by all family members.


Photo by Sebastian Bednarek
DeutscheDate is a new
German dating site
for professionals in Germany. No monthly fees, no minimum subscription period, no contracts, no tie-ins. Just a clean, simple, easy-to-use dating site for serious relationships.