Weather service warns of heavy thunderstorms for the weekend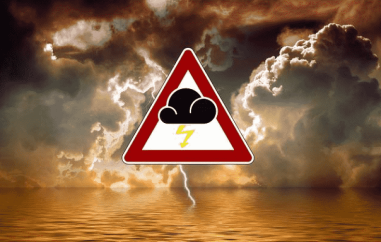 Germany sweating: Thursday has been the second hottest day of the year so far with up to 39.6 degrees. This preliminary value was measured in Bad Kreuznach in Rhineland-Palatinate, according to the German Weather Service (DWD).
The previous record in 2022 is thus still held by July 20, when 40.1 degrees was reached in Hamburg-Neuwiedenthal. The heat record for Germany is 41.2 degrees and was set in North Rhine-Westphalia on July 25, 2019.
The extreme temperatures in Germany are coming to an end, at least for the time being. The temperatures slip everywhere below the 30-degree mark on Saturday at the latest, as the German weather service announced on Thursday. In the coming week, the heat would probably return again, but according to the current status, it will not be quite as hot as this week.
For the night to Friday, the DWD warned of partly heavy thunderstorms. According to the warning, strong thunderstorms could spread from France and the Benelux countries to the west of Germany. There was a threat of heavy rain and squalls and initially also hail.
According to the DWD, the thunderstorms could also unite to form a larger thunderstorm complex. By Friday morning, the thunderstorms should therefore also have arrived in the northeast of the country. For Friday afternoon and evening, the meteorologists also expect partly heavy thunderstorms in the south.
With the precipitation, a cold front will move in at many locations and ensure a significant drop in temperature to 20 to 25 degrees, especially in the northwest. Otherwise, it will once again be hot and humid with 30 to 35 degrees, especially from Baden-Württemberg and Bavaria to Saxony and Lusatia. There will be some heavy thunderstorms, and thunderstorms are also possible.
On Saturday, the extreme heat all over Germany should then have said goodbye for the time being, the announced temperatures are between 20 and 28 degrees. In addition, it will be quite friendly with a mix of sunshine and some spring clouds. Showers and thunderstorms will only occur in the Alps and on the North Sea. The calm summer weather will continue on Sunday.


Image by Gerd Altmann
DeutscheDate is a new
German dating site
for professionals in Germany. No monthly fees, no minimum subscription period, no contracts, no tie-ins. Just a clean, simple, easy-to-use dating site for serious relationships.