Weather service warns of extreme storms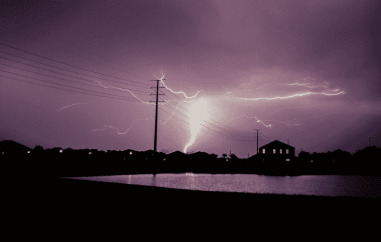 Parts of Germany are threatened by severe thunderstorms on Thursday and Friday. Especially on Friday, according to the German Weather Service (DWD), there is a high probability of an "extreme storm" with thunderstorms, hail and storms.
According to an estimate by a DWD meteorologist, the highest warning level (level 4) is likely to be declared in many places. "This means that there is a threat of massive damage where the thunderstorm complex is moving along," said the meteorologist in Offenbach on Thursday.
Accordingly, so-called supercells - spinning systems with strong updrafts that move completely independently and are therefore difficult to predict - are also likely to form. There are also "ideal conditions" for tornadoes.
According to the DWD, especially the center of Germany will be affected by the storm on Friday. Where exactly the thunderstorms will unload can only be said for sure a few hours beforehand, according to the information. Already on Thursday, the DWD expected first thunderstorms in the west, but not yet quite as strong as the following.
In the west and northwest, as well as in the Black Forest and the Alps, the DWD expects showers and thunderstorms already on Thursday afternoon. There may also be storms with heavy rain of up to 40 liters per square meter, gales or gale-force winds up to 100 kilometers per hour and three-centimeter hailstones.
The reason for the thunderstorms is a warm and increasingly very humid air mass coming from the west. During the day, it will be muggy to hot, with temperatures of up to 27 and 32 degrees. In southeastern and eastern Germany, on the other hand, it will be sunny and dry on Thursday.
In the night to Friday, thunderstorms will continue to spread, according to meteorologists. In the west and southwest, renewed showers and thunderstorms are expected in some areas, in the north with individual thunderstorms, some strong.
Also on Friday, the storm potential is "significantly increased" in the west and north, according to DWD. Towards evening, thunderstorms, some of them heavy, are also expected in the center of Germany.
On Friday morning, there will initially be strong thunderstorms from the northwest and west to the eastern low mountain range. Later, the thunderstorms will expand and heavy rain, gale-force winds and hail are expected. Only in the north and northeast and in the south of Germany, the chance of thunderstorms is low.
In the south, there will be isolated showers in the night to Saturday. On Saturday, it will cool down somewhat and the showers and thunderstorms will retreat towards the edge of the Alps. In the night to Sunday, the thunderstorms will also subside there.


Photo by James Graham
DeutscheDate is a new
German dating site
for professionals in Germany. No monthly fees, no minimum subscription period, no contracts, no tie-ins. Just a clean, simple, easy-to-use dating site for serious relationships.