Weather chaos for Germany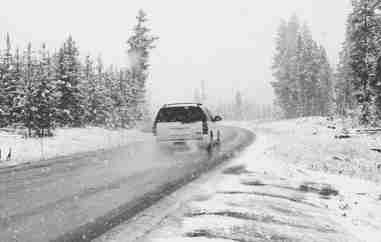 The weather in central to northern Germany has turned extreme and lead to chaos for travelers. No trains are running between Leipzig, Berlin, Hamburg and North Rhine-Westphalia. Some highways are closed, and on others there is a driving ban for trucks. Snow is expected to continue to fall into the night with more delays expected in public transport.
A heavy snowstorm moved across central Germany on Sunday night. The storm hit North Rhine-Westphalia particularly hard on Sunday. Up to 32 centimeters of fresh snow and wind gusts of up to 80 kilometers per hour caused snow drifts several meters high.
Deutsche Bahn announced on its website that the Leipzig/Halle region will also not be served by long-distance traffic. Long-distance services between Germany and the Netherlands were suspended.
In NRW, Lower Saxony, Thuringia, Saxony-Anhalt and Saxony there are also problems in regional traffic.
In the Ruhr region, overhead lines were iced over and damaged in several places, said a railroad spokeswoman on Sunday morning. This affected, for example, the line between Duisburg and Essen. In Wuppertal, the suspension railroad could no longer run.
Regional trains between Münster and Recklinghausen and commuter trains between Dortmund and Hagen can also no longer run or have to be diverted due to an overhead line fault. The Eurobahn also reported several train cancellations due to the onset of winter, especially around Münster, Bielefeld and Paderborn.
Many trains are also canceled in Lower Saxony's regional transport system. Among other things, the entire S-Bahn service in Hanover will be at a standstill until around 10 a.m., Deutsche Bahn announced.
Snow-clearing crews from Deutsche Bahn are on duty everywhere to ensure that train traffic runs as smoothly as possible, a spokeswoman said. Travelers should definitely find out whether their train is running before departure - either on the Internet, in the Bahn app or by calling the hotline set up on 08000 996633 (in German).
Numerous cities and districts suspended their bus services completely - such as Münster, Bielefeld, Dortmund, Essen, Bochum, Oberhausen and Hagen.On Saturday evening, the transport companies in the district of Siegen-Wittgenstein had already stopped bus services. The Siegerland was particularly hard hit by heavy freezing rain.
The situation on the highways in North Rhine-Westphalia is coming to a head due to heavy snow drifts. Some stretches have been closed in the meantime, while elsewhere traffic is moving very slowly. On the highways in the administrative districts of Münster and Detmold, the authorities ordered a driving ban for trucks weighing 7.5 tons or more, which will remain in effect until 8 p.m. on Sunday. In Münster, tractors had to free several stuck snowplows.
Since Saturday afternoon, there have been 222 accidents in North Rhine-Westphalia alone due to the weather, a spokesman for the state police control center said early Sunday morning. Two people were seriously injured and 26 slightly. The damage to property amounts to around one million euros.
Despite the continuous use of clearing services, police appealed to the common sense of motorists. Even those who clear the snow from their front door should be careful, warned the police and fire department in Münster. There could be dangerous roof avalanches. In Hagen, a circus tent collapsed under the masses of snow. The 13 animals that were in the tent remained unharmed and could be freed.
In Thuringia, heavy snowfall had led to minor accidents on slippery roads in many places on Saturday evening. On the A 4 and A 14 freeways in Sachen, trucks jackknifed during the night and caused traffic jams; on the A 30 near Schüttorf, a truck overturned on slippery roads.
The German Weather Service in Offenbach stressed Sunday morning that the snowstorm is not over yet. "Hotspots are the Lower Rhine, Münsterland, eastern Westphalia, northern Thuringia, southeastern Lower Saxony and southern Saxony-Anhalt," meteorologist Simon Trippler said. With five to ten centimeters of snow, locally also up to 20 centimeters must still be expected in the course of Sunday. The wind also continued, he said, with gusts of up to 70 kilometers per hour.
The north of North Rhine-Westphalia, southern Lower Saxony, northern Thuringia and Saxony-Anhalt would be particularly affected over the next few hours, he said. During the night, snow would fall in northern Bavaria, southern Thuringia and southwestern Saxony. Meteorologists expect 10 to 25 centimeters of fresh snow in twelve hours. "But without heavy winds."
Particularly at risk of the cold are people without a permanent residence. In the freezing winter night, emergency forces have spoke to numerous homeless people in North Rhine-Westphalia, for example, and brought them to warm shelters. A large homeless camp was also cleared in Berlin, although this also met with criticism. Left-wing groups had called for a protest on Saturday and demanded that the former residents of the camp be allowed to return there.
DeutscheDate is a new
German dating site
for professionals in Germany. No monthly fees, no minimum subscription period, no contracts, no tie-ins. Just a clean, simple, easy-to-use dating site for serious relationships.