Verdi and EVG announce major strike on Monday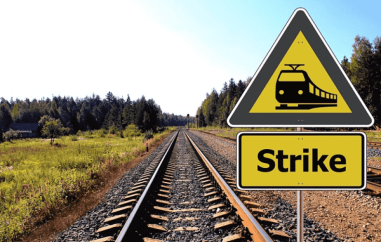 The services union Verdi and the Railway and Transport Union (EVG) plan to largely paralyze traffic in Germany on Monday with an all-day strike. The EVG said Thursday it was calling on the approximately 230,000 employees of all rail and transport companies where negotiations are currently underway to stage a nationwide warning strike on March 27. The work stoppages were to begin at 00:00 on Monday morning. Verdi announced that it would strike airports and public facilities in several German states, among others. "There will be severe delays and even a standstill of transport services in all the above-mentioned areas throughout Germany," it said.
Affected by the unprecedented warning strike action are the long-distance, regional, and commuter rail services of Deutsche Bahn as well as other railroad companies. Verdi is also calling for work stoppages at several airports and in public transport in the states of Hesse, North Rhine-Westphalia, Baden-Württemberg, Saxony, Lower Saxony, Rhineland-Palatinate and Bavaria. The autobahn company is also to go on strike, as is the water and shipping administration.
On the railroads, in addition to Deutsche Bahn, the rail companies affected include Transdev, AKN, Osthannoversche Eisenbahnen, erixx, vlexx, eurobahn and Die Länderbahn, according to EVG. "The all-day strike usually begins in the night from March 26 to 27 at 00:00 and ends at 24:00," both unions further announced.
The chairman of the Railway and Transport Union (EVG), Martin Burkert, has recommended before the warning strikes announced for next Monday travelers to get to their destination as early as possible on Sunday. "Because there may well be shifts that go into Monday as early as Sunday evening," he said Thursday at the announcement of the joint industrial action with the Verdi union in Berlin. "This strike day will have a massive impact," he stressed.
According to the unions, the warning strikes at airports concern on the one hand the negotiations for public service employees, on the other hand local negotiations for employees of ground handling services as well as the nationwide negotiations for employees of aviation security.
With the actions, Verdi is increasing the pressure for the third round of negotiations with the federal and local governments, which begin on Monday. Together with the civil servants' association dbb, the union is demanding 10.5 percent and at least 500 euros more pay for the public sector. The employers had presented an offer in the second round of negotiations at the end of February. Among other things, it includes a total pay increase of five percent in two steps and one-off payments totaling 2,500 euros.
In addition, negotiations between EVG and Deutsche Bahn and around 50 other rail companies began at the end of February. Last week, the union had rejected an initial offer from Deutsche Bahn. It is demanding at least 650 euros more in wages. In terms of higher wages, it is seeking an increase of twelve percent with a term of the collective agreement of twelve months. Among other things, Deutsche Bahn had offered to raise the wages of the approximately 180,000 affected employees in two steps by a total of 5 percent, as well as several one-time payments totaling 2,500 euros.
Local and long-distance transport as well as airports throughout Germany had already been struck simultaneously more than 30 years ago in the course of a strike lasting several weeks. During this tough labor dispute in the public sector in the spring of 1992, several hundred thousand employees temporarily stopped work. However, this was a regular labor dispute, not a warning strike.


Image by Gerd Altmann
DeutscheDate is a new
German dating site
for professionals in Germany. No monthly fees, no minimum subscription period, no contracts, no tie-ins. Just a clean, simple, easy-to-use dating site for serious relationships.