U.S. wants to deliver anti-ship missiles to Ukraine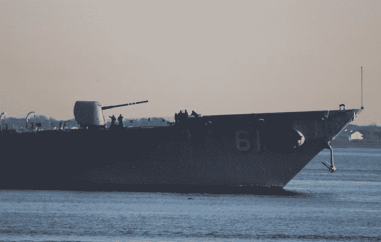 According to insiders, the USA wants to provide Ukraine with advanced anti-ship missiles so that it can break the Russian blockade of its ports on the Black Sea. Currently, two types of missiles are under discussion for this purpose, Reuters news agency learned from three U.S. government officials and two congressional staffers who asked not to be named.
These are the Harpoon, manufactured by Boeing, with a range of up to 300 kilometers, and the Naval Strike Missile (NSM) from Kongsberg and Raytheon Technologies, with a range of 250 kilometers.
According to naval expert Bryan Clark of the Hudson Institute, twelve to 24 such missiles would be sufficient to threaten Russian warships and persuade the government in Moscow to end the blockade. The blockade affects Ukrainian grain supplies for the world market, for example.
Russia has about 20 warships - including submarines - deployed in the combat zone, according to the British Ministry of Defense. The Russian Navy has already suffered notable losses in the Ukraine war, notably the sinking of the cruiser Moskva, the flagship of the Black Sea Fleet.
According to Clark, the larger Russian ships could be in danger should Ukraine obtain advanced weaponry and President Vladimir Putin still maintains the blockade: "They have nowhere to hide in the Black Sea."
The blockade of ports in the Black Sea means that millions of tons of grain cannot be exported. It threatens a humanitarian disaster in poorer countries in Asia and North Africa. But the consequences are also already being felt in the EU through higher food prices. The German government had accused Russia of using the blockade of grain exports as a weapon of war.
In March, during the NATO summit in Brussels, it had emerged from US circles that anti-ship missile deliveries to Ukraine were being discussed. Work had "begun on this," it was said at the time. Ukrainian President Volodymyr Zelensky asked NATO member Portugal to supply Harpoons in April. The German armed forces also have the weapon system.
According to the insiders, there are now a number of countries that would in principle be willing to send such missiles to Ukraine. However, no one wants to be the first to do so for fear of Russian reaction should a warship be sunk by a missile from that country's stockpile.
One of the government officials told Reuters there is now a "well-equipped" country that may be willing to deliver first. Then other countries could follow. British Prime Minister Boris Johnson had announced in early May that his country would supply Ukraine with Brimstone anti-ship missiles.
According to earlier U.S. indications, there are several obstacles and concerns about transferring more powerful, longer-range weapons to Ukraine. These include long training times, difficulties in maintaining the systems, and concerns that Russian forces could get hold of them. There are also fears of an escalation of the conflict. In addition, there are technical difficulties, since the Harpoon, for example, is not actually designed to be fired from land.


Image by Richard Alexander
DeutscheDate is a new
German dating site
for professionals in Germany. No monthly fees, no minimum subscription period, no contracts, no tie-ins. Just a clean, simple, easy-to-use dating site for serious relationships.