Significantly fewer traffic jams than before the pandemic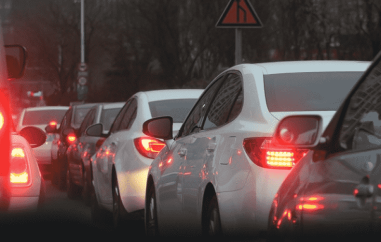 The volume of traffic jams in Germany last year remained significantly below that of the previous corona year 2019, despite a normalization of traffic. Overall, the duration of the registered traffic disruptions added up to about 333,000 hours of congestion, which is 188,000 less than in 2019 and still 13,000 less than in 2021, as the automobile club ADAC announced in Munich on Thursday. In 2021, traffic was temporarily restricted due to the lockdown.
In total, ADAC counted 474,000 traffic jams in 2022 with a total length of disruptions of 733,000 kilometers. The mileage of cars on the highways increased by about ten percent compared to the corona year 2021.
A distinction is made between the days of the week and the risk of being stuck in traffic jams is lowest at the weekend - there were around 500 hours of traffic jams on Saturdays and Sundays. Thursday was the busiest day with around 1200 hours of traffic jams, in 2019 it was Wednesday with 1850 hours of traffic jams.
According to the ADAC analysis, the day with the highest volume of congestion was September 30 last year with 2250 congestion hours. At that time, many drivers took advantage of the long weekend with the holiday on October 3 for trips. On May 25, the day before Ascension Day, drivers were stuck in traffic for 2100 hours.
The most impressive traffic jam in terms of length occurred on Saturday, July 23, when motorists were stuck between Rosenheim and Bad Reichenhall for a total length of 44 kilometers on Highway 8 from Munich toward Salzburg. On December 15, there was a 40-kilometer traffic jam on the A8 from Stuttgart in the direction of Munich between Burgau and Dachau/Fürstenfeldbruck.
The hotspot for traffic jams par excellence in 2022 was also on the A8, where the six-lane expansion near Pforzheim led to recurring long traffic jams. Accordingly, the A8 also had the most congestion hours overall, followed by highways 12 and 3.
By state, North Rhine-Westphalia remained in first place with a share of around 31 percent of all congestion hours, followed by Bavaria with 17 percent and Baden-Württemberg with twelve percent. For this year, the ADAC expects an increase in traffic volume and thus more traffic jams.


Image by Shilin Wang
DeutscheDate is a new
German dating site
for professionals in Germany. No monthly fees, no minimum subscription period, no contracts, no tie-ins. Just a clean, simple, easy-to-use dating site for serious relationships.