Retail food sales as weak as last seen in 2017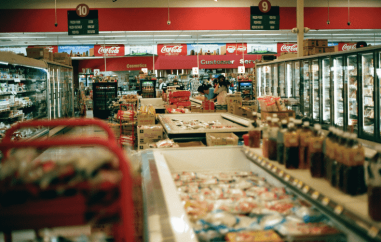 Consumers made particular savings on food in August. This was felt by German retailers, whose food sales were weaker than at any time since January 2017.
Their sales grew minimally by 0.1 percent compared to the previous month, as reported by the Federal Statistical Office on Friday. Adjusted for inflation (real), however, it shrank by 1.3 percent. Economists surveyed by the news agency Reuters had expected here only with a decline of 1.1 percent.
Consumers were noticeably reluctant to buy food: Here, retailers recorded a real sales decline of 1.7 percent compared to the previous month and as much as 3.1 percent compared to the same month last year.
"Consumers are tightening their belts," said VP Bank Chief Economist Thomas Gitzel. "Food retailers are currently getting the full brunt of inflation. Citizens are cutting back on everyday food."
Things are looking a bit better in other areas of retail: At gas stations, pure sales rose 14 percent from the previous month, the strongest increase since statistics began in 1994.
"It is possible that consumers took advantage of the last month of the fuel discount to replenish their stocks one last time," the statistics office said. The federal government had introduced the fuel rebate from June to August to curb inflation.
The outlook for the retail sector remains clouded due to sharp price increases. Energy costs and everyday goods are particularly affected. When looking into their wallets, many consumers will continue to put the brakes on spending," said Alexander Krüger, chief economist at Hauck Aufhäuser Lampe Privatbank AG. He does not expect government relief to bring about a turnaround in sentiment.
A few weeks before the start of the Christmas business, the consumer mood of the Germans is worse than ever. The monthly barometer of the German Retail Association (HDE), which is based on a survey of 1,600 consumers, fell for the third month in a row in October and reached a record low.


Photo by Sonder Quest
DeutscheDate is a new
German dating site
for professionals in Germany. No monthly fees, no minimum subscription period, no contracts, no tie-ins. Just a clean, simple, easy-to-use dating site for serious relationships.