Nine-euro ticket for local transport have been finalized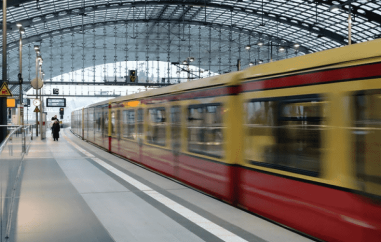 Barely four weeks before its planned launch, the Berlin-Brandenburg Transport Association (VBB) on Friday announced details of the so-called nine-euro ticket, which will allow people to use public transport throughout Germany at a greatly reduced cost. If the Bundesrat approves the fare model planned by the federal government on May 20, the ticket will be valid from June to August - for nine euros for each of these three months.
When and where the nine-euro ticket will apply
The tickets are to be valid on all German local and regional services, and without exception in 2nd class and not on long-distance services, i.e. not on ICE, IC, RJ and ECE trains. According to VBB, Flixbus and Flixtrain are also not included, nor are special transport services, unless their operators regulate otherwise. Also important: The ticket is valid strictly according to calendar months - in contrast to the usual sliding monthly tickets.
When and where the ticket is sold
Tickets are to go on sale in the second half of May, but the VBB has not yet given a date. The special offer will be available at all ticket machines in the VBB area and at the service points of the transport companies. The special tickets are also to be sold on trains if - as at some Brandenburg stations - no vending machines or counters are available. The same applies to buses, but explicitly not to those of BVG.
The nine-euro tickets are also to be bookable via popular apps such as VBB Bus & Bahn, BVG and DB Navigator. In any case, the tickets are to be personal, i.e. non-transferable. As before, children under the age of six travel free of charge. And since the promotion is limited to the three calendar months, the tickets end automatically without becoming a subscription.
What applies to regular customers
Those who have a subscription with a transport company from the VBB do not need to do anything: The monthly amount debited will be automatically reduced to nine euros each time. According to the VBB, this applies not only to environmental tickets, but also to schoolchildren's and trainees' tickets (which are free in Berlin anyway), company tickets and the VBB 65plus and 65vorOrt subscriptions. The regulations associated with the respective tickets, for example on bicycle transport, apply as usual - but only for these customers, not for the nine-euro ticket in general. The VBB-FahrCard is to be recognized nationwide on local and regional transport.
According to the transport association, the extent to which the nine-euro tickets are recognized in long-distance transport - like the regular VBB subscriptions on certain connections in Brandenburg - still has to be finally clarified.On the other hand, it is clear that holders of semester tickets should also benefit."More information will be available shortly from the respective university administrations," it says.
Whoever bought the tokens for the annual ticket in advance has to take care of it: The transport association asks these customers to use the corresponding sections regularly and to submit them to the respective transport company afterwards for reimbursement.Anyone who purchases a sliding season ticket during the month of May that is valid into June will not receive a prorated refund.
The transport companies do not have large reserves to increase their services. It will therefore be very crowded on many routes - so crowded that the VBB recommends as a precautionary measure not to take your own bicycle, but to rent one at your destination. It also recommends "traveling outside of rush hour".
To the foreseeable scarce supply come some construction sites, which were deliberately placed in the summer vacations with a long lead time and now can no longer be adjusted, as it is said. The VBB therefore asks for flexibility - and for information about travel routes in advance. The planned construction work will be posted at the information points and in the timetable apps of VBB and transport companies.
DeutscheDate is a new
German dating site
for professionals in Germany. No monthly fees, no minimum subscription period, no contracts, no tie-ins. Just a clean, simple, easy-to-use dating site for serious relationships.