More than 1,500 dead - another tremor at noon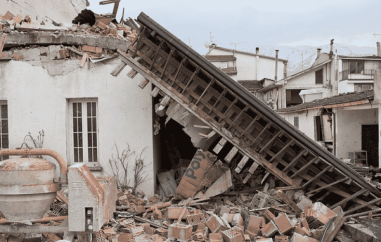 Heavy earthquakes in Turkey on the border with Syria have killed more than 1,500 people in both countries, and thousands have been injured. In Turkey alone, 1014 people lost their lives, the disaster management authority said. More than 5300 were injured in the country, it said. More than 2400 people had been rescued from the rubble, it said.
In Syria, the death toll rose to more than 590 dead. About 1600 people were injured, Deputy Health Minister Ahmed Dhamirijeh reported on Syrian state television, as well as the aid organization Sams, which works in rebel-held areas of the country.
On Monday night, an earthquake with an epicenter near Kahramanmara? had shaken southeastern Turkey. The Turkish disaster service Afad later corrected the magnitude of the main quake from 7.4 to 7.7. Another quake with a magnitude of 6.6 had been measured shortly afterwards in Gaziantep province. At noon, another quake with a magnitude of 7.5 struck southeastern Turkey. The epicenter was again in Kahramanmara?, the Kandilli earthquake monitoring center in Istanbul reported.
Earthquakes were also felt in Lebanon, which borders Syria. In the capital Beirut, some residents fled their homes. The quake was also felt in Israel. According to the Israeli police, however, there were no injuries or damage.
In Syria, buildings collapsed in numerous towns, according to the state news agency Sana. Rescue teams were trying to pull people from the rubble at night and dawn. The head of the National Earthquake Center, Raed Ahmed, said it was the strongest quake in Syria since 1995, according to the Sana news agency. President Bashar al-Assad called his cabinet together for an emergency meeting.
"We are responding with everything we can to save those who are under the rubble," said the head of the White Helmets rescue organization, Raed Al Saleh. "Hospitals are overloaded with seriously injured people," a spokesman for the organization said. Rain and cold further complicated operations. "We urgently need the help of the international community," Basel Termanini, chairman of the Syrian American Medical Society (Sams), told dpa. He said the situation was "catastrophic."
In Turkey, the quake was felt in ten provinces, according to Vice President Fuat Oktay. At least 1700 buildings collapsed, he said. The Interior Ministry said that rescue teams from all over the country were being pulled together. In addition, an alert level four was declared and international help was requested. There were a total of 22 aftershocks, some of them strong.
Weather conditions were hampering rescue efforts, Turkish President Erdo?an said. The affected provinces are currently experiencing sub-zero temperatures, with snow falling in some areas. Several airports there remained closed to civilian flights for the time being. This involved the airports in Hatay, Kahramanmara? and Gaziantep, Vice President Oktay said. CNN Türk showed pictures of a deep crack in a runway at Hatay airport.
Among the collapsed buildings in Turkey, in addition to residential buildings, was a hospital in the city of ?skenderun. In the city of Gaziantep, the castle was also severely damaged, according to state news agency Anadolu. People in Turkey were called to make calls online and not through the cell phone network because of the communication bottlenecks, so that priority can be given to reaching buried people. Temperatures in the affected areas are currently often in the minus range. In some places, it snowed heavily.
President Erdogan wrote on Twitter that "we hope to get through this disaster together in the shortest possible time and with the least possible damage." The Foreign Ministry urged caution and advised people to follow the instructions of local authorities. Several countries pledged assistance to Turkey.
The country is repeatedly hit by major earthquakes. Two of the largest continental plates border each other there: the African and the Eurasian. Most of the Turkish population lives in constant danger of earthquakes. One of the most momentous quakes in recent years killed more than 100 people in ?zmir in October 2020. In 1999, Turkey was hit by one of the worst natural disasters in its history: A magnitude 7.4 quake in the region around the northwestern industrial city of ?zmit killed more than 17,000 people. Experts also expect a strong quake to hit Turkey's largest city, Istanbul, in the near future.


Image by Angelo Giordano
DeutscheDate is a new
German dating site
for professionals in Germany. No monthly fees, no minimum subscription period, no contracts, no tie-ins. Just a clean, simple, easy-to-use dating site for serious relationships.