Deutsche Bahn presents timetable for 2023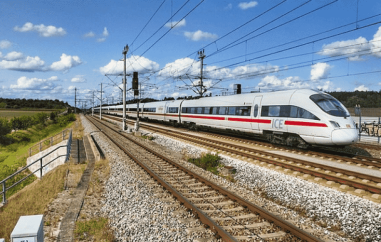 Whether from Cologne to Munich, from Hamburg to Frankfurt or from Berlin to Warsaw: With the change in Deutsche Bahn's long-distance timetable, passengers are to travel more frequently and faster on important routes from mid-December. A new night train line operated by Austrian Federal Railways (ÖBB) between Prague, Berlin and Zurich will also be launched then, Deutsche Bahn announced on Monday. In particular, the completion of the new Wendlingen-Ulm line, which along with Stuttgart 21 is part of the Stuttgart-Ulm rail project, will create additional capacity between northwestern and southern Germany.
"The new route will also connect the federal states of North Rhine-Westphalia and Bavaria even faster and more frequently," said long-distance transport board member Michael Peterson on Monday at the presentation of the new timetable, which will come into force on December 11th.
Among other things, Peterson announced that a direct connection between Cologne and Munich will be offered twice an hour in the future. There will then also be more connections to Frankfurt Airport, especially from cities to the north. "For example, the Basel-Cologne-Dortmund ICE line will be extended to Hamburg, further upgrading the quality of the axis between the cathedral city and the Hanseatic city," Deutsche Bahn announced. "This will also enable travelers from Münster, Osnabrück and Bremen to reach Frankfurt Airport even more frequently without changing trains."
New generation of ICE trains in operation
The first trains of the so-called ICE 3 Neo are to be in service between NRW and Frankfurt from mid-December - a new train based on the familiar ICE 3, of which Deutsche Bahn will receive three dozen new vehicles next year. They will then travel from Dortmund via Cologne in the direction of the Main. In the course of the coming year, the new vehicles will also be used between Dortmund and Munich.
Accordingly, there will also be changes to ÖBB's night train service. Next year, a new night line will connect Prague and Zurich via Berlin, Leipzig and Erfurt, the railroad company added. "The existing Zurich-Hamburg night train will change its route from the timetable change in the north and will then also connect Bruchsal, Heidelberg, Darmstadt, Hanau, Verden and Nienburg to international night train services," it said. In regular services, Deutsche Bahn will also be offering additional trips from Berlin to Prague and from Stuttgart to Zurich from December.
But the numerous frequency increases next year say little about the reliability of the express trains. At least Peterson did not have a new punctuality target for 2023 ready on Monday. The only thing that remains clear is that numerous roadworks will continue to slow down traffic in the coming year.
For example, between Fulda and Kassel, as well as on the Warnemünde-Berlin-Rostock route, connections would then have to be removed from the service for several weeks, and trains would take longer, Peterson said. "Construction measures lasting several weeks are already included in the new timetable."
From the point of view of the honorary chairman of the passenger association Pro Bahn, Karl-Peter Naumann, the construction measures are exceedingly necessary in many places. "There is rather too little built here than too much," he told the German Press Agency on Monday. "There are, after all, good detour options there. That's not the really big problem."
The new services will also be accompanied by an increase in fares when the timetable changes on Dec. 11. Deutsche Bahn will raise long-distance fares by an average of five percent. The company had already announced this at the end of September. The so-called Flex tickets will then cost just under seven percent more.
DeutscheDate is a new
German dating site
for professionals in Germany. No monthly fees, no minimum subscription period, no contracts, no tie-ins. Just a clean, simple, easy-to-use dating site for serious relationships.